Domino's UNCF Scholarship: Now Accepting Applications
Published: March 28, 2023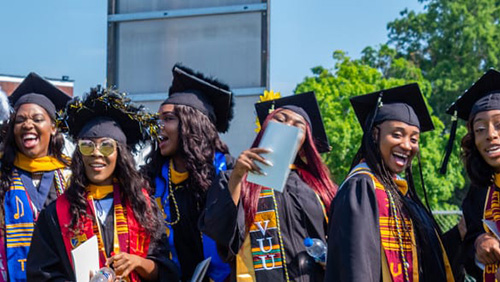 Domino's believes in supporting organizations dedicated to providing what we call the power of possible. The United Negro College Fund has strived to do this since it was founded in 1944 through its college readiness, leadership development and scholarship programming. To help UNCF fulfill its mission, Domino's is sponsoring its third annual scholarship with the nonprofit organization.
Students who attend a UNCF-member institution or another accredited four-year historically Black college or university are encouraged to apply for the 2023 Domino's UNCF scholarship. Domino's will award at least 10 scholarships, worth a total of $50,000. To apply, students must be enrolled full-time with a minimum grade point average of 2.75. The scholarship is open to students studying accounting, finance, supply chain, business, statistics, analytics, leadership, management, marketing, advertising, communications, journalism, engineering, information technology or hospitality.
The application window for UNCF's Domino's scholarship is open from March 27, 2023-May 4, 2023. To apply, students must submit an online application with a one-page personal statement of career interest and their current transcript. UNCF will review applications, select finalists and disburse funds ahead of the fall 2023 semester. To apply, students should visit UNCF's scholarship website.
"As a proud graduate of an HBCU, I feel my experiences there were foundational in preparing me for the realities of the corporate environments I was entering into," said Christopher Thomas-Moore, Domino's senior vice president – customer and store experience, and graduate of North Carolina Agricultural and Technical State University. "From direct conversations around unconscious bias to building a love and acceptance of myself and my worth, my time at A&T gave me the tools and education that undoubtedly prepared me for my professional journey."
Since 2021, Domino's has awarded scholarships to 21 students at 12 different HBCUs. They held an average GPA of 3.68 and represented future leaders in computer science, economics, psychology and more. Read about the most recent group of scholarship recipients here.
In addition to the scholarship program, Domino's has donated $50,000 to UNCF's Emergency Student Aid fund, which was created to help students poised to graduate and facing financial hardship stay in college and complete their degrees. UNCF was established with the goal of supporting African American students in attending and graduating from college, and has since helped to more than double the number of minorities enrolled in higher education.
---
Click here to learn more about UNCF.