Domino's Truck Driver Development Program Provides Growth and Opportunity
Published: May 24, 2023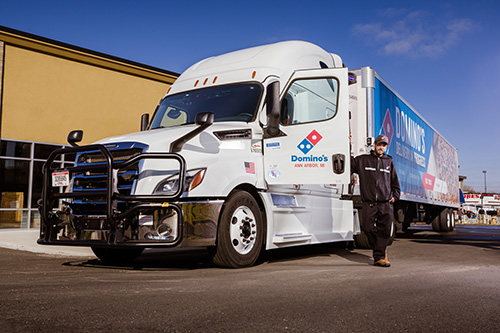 Domino's Driver Development Program is taking participants on new roads. The program, which was revamped in 2021, gives supply chain center team members working in nondriving roles the opportunity to earn their CDL and become safe, professional semitruck drivers for Domino's. Being a driver for Domino's offers incredible job growth and increased earning potential by moving from an hourly position to a salaried one.
The Driver Development Program not only pays for team members to go to driving school, but for their CDL license as well. It also offers mentoring by experienced Domino's drivers. Backing a semitruck into a tight alleyway or busy shopping center isn't easy, and the program strives to ensure Domino's drivers are confident in their ability.
The program has seen significant growth since its inception, with 40 graduates in 2022, and a goal of 80 graduates in 2023. Here's what some of the graduates have said while reflecting on their experiences with the program and beyond:
"I'd like to thank Domino's, specifically the delivery and service management team, for giving me this opportunity to expand my career with the company and knowing – believing in my ability to accomplish this goal. Never in my wildest dream did I think I would be driving a tractor/trailer. It looked scary, but the knowledge of school and training that is being delivered in house is extraordinary." - Juan Ruiz, Arizona supply chain center
"First of all, I want to say thank you Domino's for the incredible opportunity. The four years I've been in the company have been a blessing. I've been allowed to grow in every role given, and now that I've graduated from the driver program, I am really excited for the new opportunities ahead. The staff at the distribution center have always been very supportive to me throughout my time here. It really feels like a team. Again, I want to say thank you for the opportunity and I will continue to make you proud." - Kori Dickerson, Arizona supply chain center
"This program has changed my life and my family's. I will forever be thankful to my Domino's family." - Tony McCorvey, South Texas supply chain center
---
Interested in working at a Domino's supply chain center? Head to jobs.dominos.com!