The Last Mile: Domino's Celebrates Truck Driver Appreciation Week
Published: Sept. 8, 2023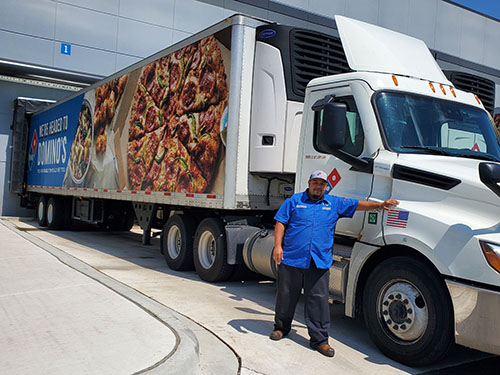 The U.S. economy would not be able to sustain itself without the challenging work of truck drivers each day. Everywhere you look, there is something within eyeshot that is only there because a truck driver was able to deliver it. In celebration of National Truck Driver Appreciation Week (Sept. 10-16, 2023), Domino's is highlighting one of the many truck drivers who complete the supply chain process for the largest pizza company in the U.S.
Ten years ago, Carlos Gerardo gained his Commercial Driver's License (CDL) and began his career at the Domino's supply chain center in Woodridge, Illinois. Although he was originally looking to provide a better living for his growing family, his experience allowed him to grow professionally and contribute to a field he values and respects.
As a young child, he recalls helping his dad prepare his routes prior to his shift, as he too was a commercial truck driver.
"I saw then how important his job was," Carlos said. "He was responsible for being timely, accurate and safe. Without him, stores could not operate."
Although truck driving is often an overlooked profession, it requires a high level of knowledge, skill, physical ability and responsibility greater than the average driver. Trucking can also provide a fruitful life without needing a college degree.
"When I was younger, I didn't have the opportunity to attend college, but here am I, making a great life for not only myself, but my family," said Carlos. "There's an extreme need for truckers across the country. I want anyone thinking about it to remember it is not only a huge responsibility, but it comes with a huge level of respect too."
Carlos' dedication to Domino's has not gone unnoticed. He has advanced and become a certified driving trainer. During the opening of Domino's newest supply chain center in Merrillville, Indiana, Carlos was an integral part of training new drivers and setting the tone for the high-capacity facility.
As a trainer, he seamlessly prepares his trainees not only for the job itself, but for the benefits that trail along with it.
"Financial freedom was one of my biggest goals in becoming a trucker," he said. "I try to show the upcoming drivers how to save their money, about Domino's stock ownership resources and how they can build a good life for themselves."
Andy James, senior director of Domino's supply chain center in Indiana, witnesses the importance of Carlos and his role within Domino's on a daily basis.
"Carlos has been an influential driver, trainer and leader for the past 10 years," Andy said. "He has been instrumental in offering support to other centers when there was a need and was heavily recruited to be one of the certified trainers at our newest supply chain center in Indiana. Every day he shows up, rain or shine, hot or cold, and consistently supports the stores and the other drivers and members of the Indiana transportation team."
This year's National Truck Driver Appreciation Week focuses on the appreciation that truck drivers should receive for each mile driven and delivery completed. Since his time at Domino's, Carlos has personally unloaded more than 6,240,000 pounds of product to stores in his region, as well as driven more than 700,000 miles to make deliveries.
On behalf of everyone at Domino's, we thank and recognize Carlos and all truck drivers who allow us to provide fresh, quality ingredients to our customers across the country. We simply could not be us, without you.
---
To learn more about careers at Domino's, including at the supply chain level, visit jobs.dominos.com.