Happy 15th Birthday, Domino's Tracker!
Iconic technology has followed more than 1.8 billion orders since it launched in 2008
Published: July 19, 2023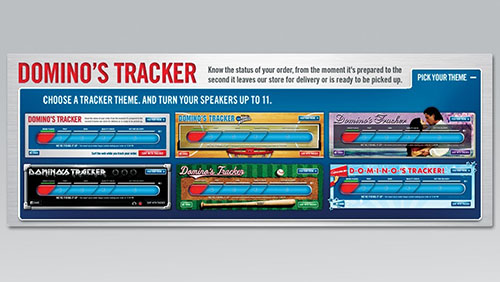 Every day, thousands of people use Domino's Tracker to follow the progress of their order, but what they may not know is the revolutionary tool is celebrating its 15th birthday this year! As a beloved technology, it has won the hearts of many consumers over the years who have become hooked on tracking the status of their order.
Domino's rolled out Pizza Tracker™ in January of 2008 across the U.S., after launching a test of it to select customers in December 2007. Domino's Tracker was an industry first, as it was the first tracker developed and used by a national pizza chain to allow customers to follow the progress of their order. No other pizza company or quick-service restaurant had anything like it. Since its launch in 2008 though, many other pizza companies and industries have followed suit and introduced their own version of tracking technologies.
How Does Domino's Tracker Work?
The revolutionary technology allows Domino's customers to follow the progress of their order, from the time they submit it, to when it is being prepared, put in the oven, and when its ready for pickup or out for delivery!
Why Launch Domino's Tracker?
Domino's has had a longstanding history of driving innovation and bringing convenience to customers. Domino's Tracker is no exception. It was one of the earliest examples of this, as it allows customers to plan around their pizza being ready. It takes the mystery out of waiting for pizza, plus it is pretty entertaining. After all, who doesn't get excited when they see that their pizza is ready?!
Domino's Tracker Throughout the Years
Over the last 15 years, Domino's Tracker has grown and evolved, just like any teenager! Here's a highlight of Domino's Tracker's history throughout the years:
March 2008: Just months after its introduction, Domino's celebrated the one millionth customer who utilized Pizza Tracker by rewarding her with $1,000 worth of Domino's gift certificates!
October 2010: Domino's gave its Pizza Tracker an auditory upgrade and launched six themes for customers to choose from – each one giving the Pizza Tracker's interface a distinctive look and voice. Depending on the theme, Pizza Tracker would sing, cheer or even sweet talk the status of customers' orders.
April 2013: Although Domino's Tracker hosted a variety of themes over the years – such as the sounds of paradise, the excitement of a baseball game and even the awesomeness of a hair metal band – it launched a new theme in April 2013. Customers who ordered a Handmade Pan Pizza experienced a whole new theme, following along with their order's progress while "D.J. Slow Pans" introduced some slow jam music and narrated videos showing why Domino's Handmade Pan Pizza needs a little extra time in its preparation to be so delicious.
November 2014: The fan-favorite technology became available on a new platform: the Pebble smartwatch.
January 2015: Domino's launched its Domino's Tracker on Samsung Smart TVs, just in time for the biggest football game of the year, allowing football fans to check the status of their order without missing a moment of the game.
March 2017: Domino's Tracker starred in its very own TV commercial! The spot paid tribute to the iconic countdown scene in "Ferris Bueller's Day Off" by highlighting Domino's Tracker technology. It showcased "Stranger Things" actor Joe Keery in his race to get home, while checking Domino's Tracker on a smartwatch, in order to meet the delivery driver at the door (instead of the school principal, like in the classic film).
---
Want to check out more revolutions from Domino's? Visit Domino's "Innovations" page.