In Honor of Veterans Day, Domino's Celebrates The Baltimore Station
Published: Nov. 6, 2023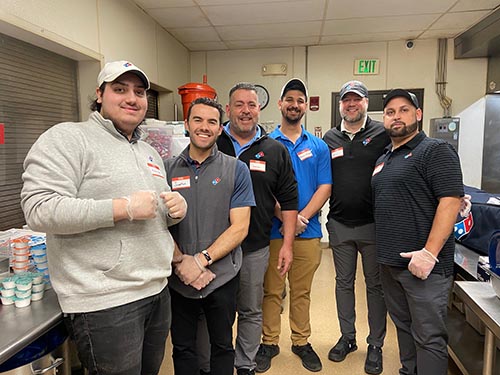 On Veterans Day, we honor all who served and continue to serve the United States. We also thank the organizations who provide services and resources to veterans, including The Baltimore Station. The Baltimore Station is a Maryland state-licensed therapeutic residential and outpatient treatment program for veterans overcoming obstacles to regain self-sufficiency. Any homeless, unemployed male veteran from anywhere in the country is welcome.
Residents at The Baltimore Station receive individual and group therapy, grief counseling, relapse prevention, and alternative therapies including: art, physical fitness, mindfulness, K9, equine and piscatorial therapy, and educational field trips. Other vocational and life skills sessions covering varying topics are also offered to expose residents to new experiences and hobbies, like cooking, to be used as new coping skills.
The Baltimore Station also runs the Service Intensive Transitional Housing (SITH) program. SITH serves to help unemployed homeless veterans learn skills needed to obtain a sustainable income, and ultimately, permanent housing. This program is individualized for each participant, and helps with resume writing, interview skills, financial literacy, and job training and placement.
The Baltimore Station is deeply engaged in its local community who assists in providing residents with services like tutoring, legal services, reconnective family services and volunteerism. The organization also has a network of "Friends of the Station," which is made up of donors, businesses, foundations and other groups who support the work through monetary contributions, in-kind donations and volunteerism. Domino's is proud to be a Friend of the Station.
Earlier this year, Domino's corporate operations team in Baltimore visited The Baltimore Station where they served and shared a pizza lunch with residents.
"The team and I had a great experience delivering and serving lunch," said Tony Schweitzer, Domino's senior manager of corporate operations in Maryland. "It was great to sit with the gentlemen and learn about their life experiences. The Baltimore Station is doing great things for veterans in our community, and we're privileged to have the opportunity to support them."
Domino's is grateful to The Baltimore Station for its inspiring work and important mission. To learn more or support the cause, visit baltimorestation.org.
---
For more information on this story, contact us.