Team Member Comforts Kids in Car Accident
Published: Sept. 21, 2023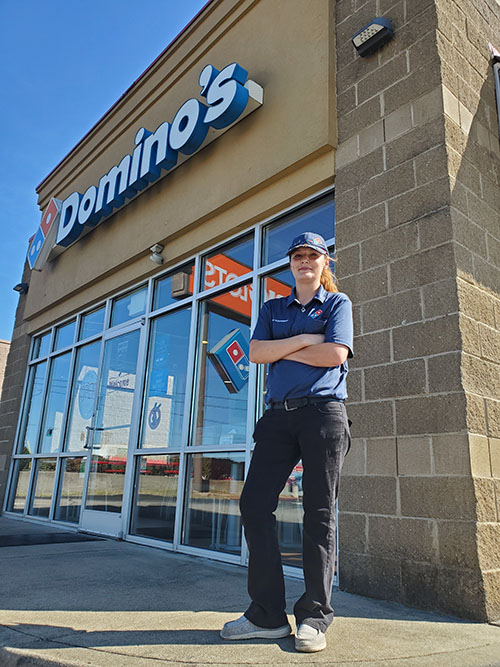 You probably wouldn't expect one of the most memorable moments of your job to happen while you were on break – but that's exactly what happened to Domino's Assistant Manager Tara Gonterman.
Tara is part of franchisee Michael Harding's team and works at a local Domino's store in Kentucky. According to Josh Houk, the district manager over Tara's store, she had just walked outside the store to take a break when a car accident happened right in front of her.
"I ran to the scene of the accident where there was an SUV accompanied by a mother and her three children," Tara said. "Upon arrival, I saw the mother was having a seizure and the oldest child had already jumped out of the SUV, so I opened the back passenger door and pulled out a 3-year-old. I ran to the other side where I pulled out a 3-month-old."
Other bystanders were helping the driver, so Tara focused on the kids. She sat with them in the grass and was helping them calm down when the oldest child mentioned that he loved Domino's Stuffed Cheesy Bread. Tara went into her store and came back with a fresh order of the child's favorite menu item and a drink, which instantly helped settle the kids.
"The next day, the children's grandmother texted Tara," said Josh. "She told her that the older kid couldn't stop talking about how nice Tara was and how much he loved Domino's. The grandmother said it really made a positive impact on his life."
Josh said that Tara often leads the crew in the Domino's cheer and tries to keep the mood and culture positive.
"She is the first to offer to help customers take large orders out to their vehicles," he said. "And when Tara witnessed the accident in front of the store, she did not hesitate in running to help. She is a true asset."
Stuffed Cheesy Bread and a drink might not seem like much, but thanks to Tara's quick thinking and kind actions, it was one small way to help bring comfort to three children when they needed it most.
---
For more information on this story, contact us.