Craving a Taco or Cheeseburger? Domino's Has a Pizza for That!
Domino's adds new specialty pizzas to its lineup
Published: August 27, 2020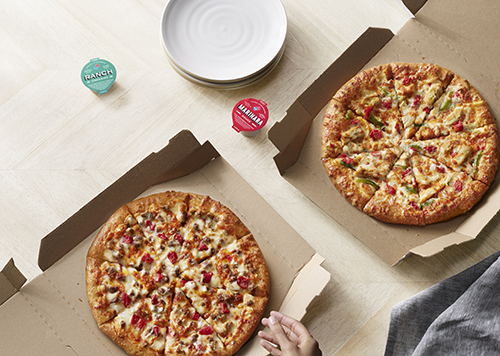 What do tacos and cheeseburgers have in common? More than you might think, thanks to Domino's! Customers can now enjoy two new, delicious pizzas: the chicken taco pizza and the cheeseburger pizza.
"We're excited to add even more options to our lineup of delicious specialty pizzas," said Art D'Elia, Domino's executive vice president-chief marketing officer. "Now friends and family who are craving a taco or cheeseburger on pizza night won't be disappointed. Domino's new taco and cheeseburger pizzas are sure to satisfy everyone."
Domino's chicken taco pizza is topped with American cheese, taco seasoning, grilled chicken, fresh onions, green peppers, diced tomatoes, provolone cheese and cheddar cheese. Domino's cheeseburger pizza is made with a tasty ketchup-mustard sauce, American cheese, beef, fresh onions, diced tomatoes, shredded provolone and cheddar cheese.
Unlike regular tacos or cheeseburgers, Domino's chicken taco and cheeseburger pizzas are designed to be delivered. Now customers can have the best of both worlds: a mouthwatering taco or cheeseburger pizza that isn't cold and soggy when it's delivered.
Customers can order a large chicken taco or cheeseburger pizza for $11.99 each. To find the nearest Domino's location and place an order, visit dominos.com.
---
For more information on this story, contact us.