Asian American and Pacific Islander Month: Get to Know Susan Combs
For Asian American and Pacific Islander Month, we sat down with Susan Combs, Domino's manager of product software design, to ask about her roots and working as a female in IT.
Published: May 5, 2023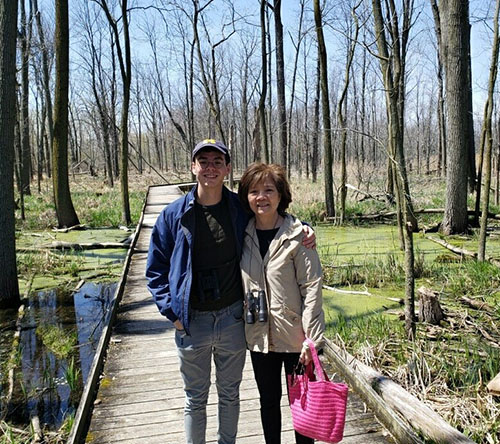 When did you begin working at Domino's? What position did you start off in?
I joined Domino's in June 1995. At that time, the Data Warehouse was in its infancy stage, and I was hired as a senior software engineer to help lead and shape the direction of the team.
What does your current job entail?
I currently manage the development team for Pulse Web Reporting (PWR) and Domino's Control Center (DCC). PWR is the online reporting tool that is used by World Resource Center team members as well as domestic and international franchisees and their organizations. PWR provides key business metrics through reports and dashboards, enabling our customer base to manage and measure the performance of stores and empowering the operators to run their stores efficiently. DCC is an identity management tool used by our franchisees to manage their user accounts and control their access to various applications and systems at the World Resource Center.
What do you love most about it?
I found out early in my career that I enjoy working with data and transforming it into meaningful and actionable information. I love solving challenges and I get a lot of satisfaction knowing that my work helps franchisees run their businesses successfully.
How did you know you wanted to work in IT?
At an early age, I discovered I loved the precision and logic of mathematics. I enjoy problem solving and working with numbers and data. I also found coding to be gratifying and a lot of fun!
Have you ever had to overcome any challenges as a female working in IT?
At my first job in IT, I was one of only three female programmers on a team of about 50. Today, there are more women in the IT field, but the gender gap is still prevalent. I think the biggest challenge has been working to overcome some of the traditional stereotypes – that somehow women are less likely to have the qualities and personality traits needed to be successful in STEM fields. I have had to work hard to prove my capabilities and earn the respect of my colleagues.
How do you identify within the Asian American and Pacific Islander community?
I identify as a Chinese Filipino – I am of Chinese descent and was born and raised in the Philippines.
How has your heritage shaped you into the person you are today?
There are three major cultures that heavily formed and impacted the Filipino culture: Spanish, Chinese and American. While I did experience some culture shock after I arrived in the United States, growing up in a multicultural home and society has given me the opportunity to appreciate diversity and be open-minded about cultural differences. My upbringing instilled in me a strong foundation in the importance of faith, family, hard work, self-discipline, and the value of education and continuous learning.
What does Asian American and Pacific Islander Month mean to you?
It is a time to celebrate the rich histories and recognize the vast contributions made by the Asian American and Pacific Islander community. I would encourage everyone to take the time to learn something new about the culture and traditions of this diverse group. Bubble tea, anyone?
---
For more information on this story, contact us.