Domino's® Surprises Customers Across Select Cities with Gift Cards to Other Restaurants
Published: Nov. 16, 2021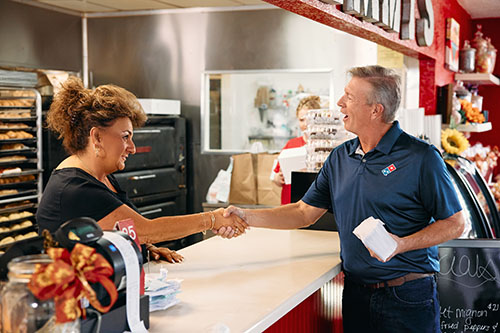 While Domino's is the largest pizza company in the world, many people do not realize it is made up of thousands of stores which are owned by hundreds of local business owners across the U.S. – just like many home-grown eateries. In support of fellow restaurant owners, a few Domino's franchisees and stores in Boston, Denver, Phoenix, Louisville, and Laredo, Texas, surprised randomly selected delivery customers with gift cards to small dining establishments throughout their communities in early November.
Why did they do this? The answer is simple.
"We know how difficult it is to run a restaurant – it's not easy," said Steve Dolan, a Domino's franchisee in the Denver area. "While delivery is built into Domino's operations model, it's not always simple for local restaurant owners to execute. Many rely on various third-party delivery apps, which not only charge customers with surprise fees, but they charge business owners with hefty costs as well – hurting their business. We wanted to give back and do something nice for these local restaurant owners, and help support them."
The participating Domino's stores and franchisees purchased a total of 2,600 $50 gift cards from small restaurants in their communities, ranging from locally owned grills, taco places, barbeque joints, bakeries, delis and more. They surprised randomly selected delivery customers by giving the gift cards to them and encouraging them to order directly from the local restaurants so they could avoid delivery app fees.
"The fees are the toughest part," said Irene Li, who owns Mei Mei in Boston. "We pay anywhere from 17-33% of the revenue from a third party order to that delivery company. We love that Domino's has supported other restaurants and driven their customers to these mom and pops that could really use the help."
"By doing this small act of kindness, we hope that the next time customers are ordering food, they'll use these gift cards to order and pick up directly from these restaurants," said Dolan. "Not only will the customers save money, but I'll appreciate it and the local business owners will too."
---
Learn more about how Domino's is surprising small business owners throughout the U.S.