Domino's Publishes 2022 Stewardship Report
Published: Dec. 6, 2022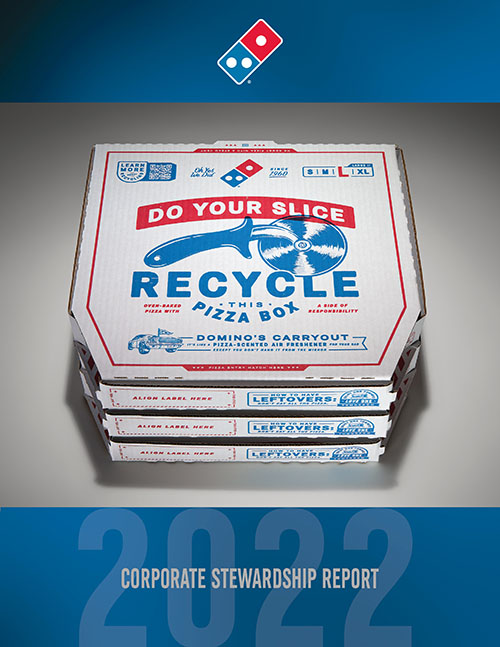 Domino's is dedicated to being a good steward of our brand, people, community and environment. Part of this responsibility is regular reporting through our annual stewardship report. Domino's is excited to announce that our 2022 stewardship report is now available here.
Some highlights of the 2022 report include:
Updates on the pathways that continue to be developed to meet future goals, which were first introduced in Domino's 2021 report.
Information on Domino's new pizza boxes, which feature facts and spread awareness about their recyclability.
Summaries of Domino's 2020 and 2021 carbon footprint, water, and waste data, as well as a summary of Domino's scope 1, 2, and 3 emissions. (Scope 1 emissions are direct emissions. Scope 2 are indirect emissions from purchased energy, and scope 3 are indirect emissions through Domino's value chain, including with suppliers, customers, and franchisees.)
Updated goals for emission reduction targets against our 2021 base year that are in line with the Science Based Targets initiative.
New 2030 inclusivity goals around pay equity and representation of diverse talent.
The stewardship report also allows Domino's to highlight and update different steps we're taking on stewardship priorities. For example, it includes details on Domino's waste reduction and the work we're doing with companies like ReConserve, as well as our community impact and renewed relationships with nonprofit organizations.
"Domino's stewardship journey is being integrated into the fundamental aspects of what we do as a brand, as we continue to work to establish a long-term sustainable business, where the environment can thrive as our business grows," said Russell Weiner, Domino's CEO. "Our report provides updates on our commitment to 'put people first' with new measurements and goals. We continue to believe there are synergies between doing the right thing for our team members and the environment, while also doing the best thing for our business."
---
For more information on Domino's stewardship, visit stewardship.dominos.com.