Domino's Walks for the Kids of St. Jude
Published: Oct. 4, 2023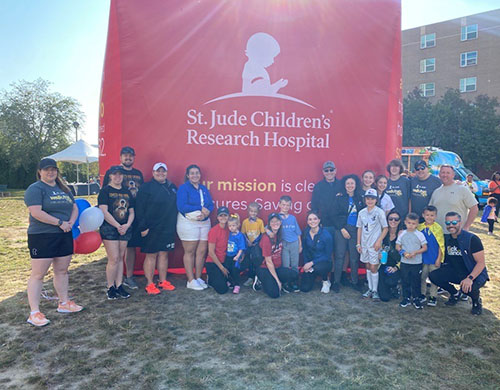 September is Childhood Cancer Awareness Month, a time when Domino's teams across the nation come together in support of our national philanthropic partner, St. Jude Children's Research Hospital, by engaging in the annual St. Jude Walk/Run to End Childhood Cancer.
Domino's named St. Jude its national charity partner in 2004 and has been involved in the walk/run at the national level for eight years. Participating teams fundraise all September long and take part in the walk/run to support St. Jude's mission – ending childhood cancer and ensuring no family ever receives a bill for treatment, travel or housing. All the money raised from the walk/run goes directly to St. Jude, specifically, toward Domino's $100 million commitment that was made to St. Jude in 2020.
This year, team Domino's was eager to advocate for the kids of St. Jude. Over 500 corporate, store and supply chain team members walked, with 30 teams participating across the country at the local events. In addition, Domino's teams raised over $245,000 total through walk/run efforts for St. Jude.
"My team and I look forward to the walk every year," said Corey McKanna, a Domino's franchisee in Texas. "It's amazing to see fellow team members across the country band together for a common good and it is a true testament to what St. Jude means to Domino's."
Many Domino's stores conduct their own local fundraising events throughout the year to help with the walk/run in addition to the efforts throughout September. Stores also engage in the annual St. Jude Thanks and Giving campaign, where in-store personnel encourage donations through round-up options. Domino's is passionate about the cause and dedicated to working hard for the kids of St. Jude.
Domino's is incredibly proud of the team members who championed for St. Jude. From those who donated to those who walked, we thank our team members for their incredible achievements in support of St. Jude's lifesaving mission.
---
Click here to read more about Domino's partnership with St. Jude Children's Research Hospital.