Domino's® Delivery Driver Spreads Joy Through Acts of Kindness
Published: May 10, 2021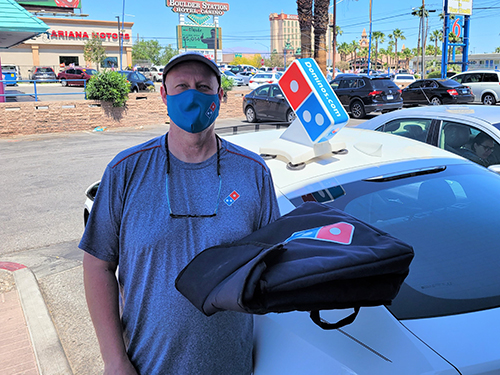 Each day, when Richard Brodmerkel goes to work, he lives by the motto, "Pay it forward." As a Domino's Team USA delivery driver in Las Vegas, he encounters quite a few people while on the job, but many customers don't see him as just the person delivering their pizza – they see him as a saving grace.
"He's been an angel to us," said Robert Gutierrez, a Domino's customer who lives in the Las Vegas area. "We didn't know what we were going to do. We were on the verge of getting kicked out of our housing because I couldn't work. We had depleted our savings."
Richard met Robert, his wife and their twin daughters when he delivered a pizza to them one evening.
"He came to our little apartment that we had – one of those weekly units," Robert said. "It was on our twins' birthday and we hardly had any money. We had to choose between a birthday cake and some pizza, and we didn't have the money for the whole bunch."
When Richard arrived, one of the little ones mentioned that it was their birthday, and Richard asked how old they were and if they were going to have cake. Robert's wife overheard and explained the situation to him. Richard could've returned to his car and driven back to the Domino's store to retrieve his next delivery at that point, but he didn't. Instead, he went to his car, grabbed a stuffed animal, a treat, a $250 Walmart gift card and took them to the Gutierrez family.
Richard often delivers pizza for kids' birthday parties, so he makes sure he always has stuffed animals, suckers and gift cards in his car to give them as gifts. Many times, customers will mention they're celebrating a birthday in their order notes, so Richard will ask the parents if it's okay if he gives them a treat.
"He told us to go get cake and presents for the kids," Robert said. "One thing led to a another and he found out we lost our house with everything in it, and he came by several times to talk to us and help us. He's been so generous."
Richard secured an apartment for the family and paid their initial rent. He also helped to furnish their new place. However, Robert's generosity didn't stop there.
"He helped me get my car registered and insured so I could get a job," Robert said. "He even took care of Christmas for us. He used his entire bonus that Domino's gave him in December to help our family."
When Robert conveyed his gratitude and asked Richard how he could pay him back, Richard replied, "Somehow, pay it forward." And so, Robert now operates with that expression in mind as well.
The Gutierrez family is one of many who Richard has helped since becoming a Domino's delivery driver in 2019. He's taken care of customers' orders when he knew they couldn't afford them. He paid medical bills for one individual, and he even set up an eye exam and purchased glasses for another person. When asked about these acts of kindness, Richard was extremely modest.
"I'm happy to do anything to make things better for somebody, even in the smallest way," he said. "For me, it's the satisfaction of knowing that maybe for 5-10 minutes, I've helped somebody feel better or helped them out of a bad situation."
Richard not only inspires the customers and individuals he encounters each day, but he also motivates his fellow team members at Domino's.
"Richard is definitely somebody who is always working to step up to help anyone who needs it," said Michael Hutchens, who is the manager of the Domino's store where Richard works. "We never receive customer complaints about Richard. Instead, I get people calling to tell me how great he is. Probably at least once a month, customers will reach out to give thanks to Richard and how he's helped them. I've been in positions before where I've needed help like that, so I'm grateful to have somebody in my store who does the same for others."
When asked what advice he would give other Domino's team members on the job, Richard spoke from his heart.
"I would say be selfless. Don't always think about yourself because when you are, it helps not only you, but the other person and it always comes back to you tenfold, some way or another," Richard said. "Please just pay it forward. If you can spare an hour to help out somebody else, do it. I don't do it for attention or accolades. I do it because it's the right thing to do."
---
For more information on this story, contact us.