Delivering the Facts: Recycling Pizza Boxes
Published: August 22, 2022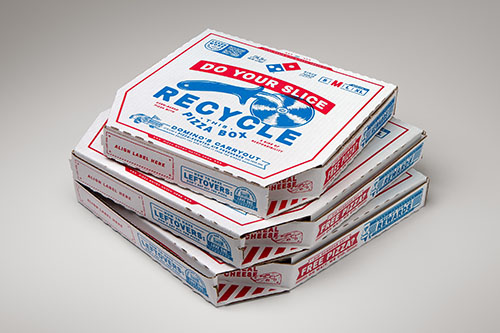 Nearly everything that leaves a Domino's store is in the same type of packaging: corrugated cardboard boxes. These boxes are made of more than 70% recycled content. To continue to meet the demands for recycled content in corrugated packaging, Domino's knows it is essential to spread awareness of pizza boxes' recyclability. And what better way to do that, than through the box itself?
Starting as early as Aug. 22, 2022, Domino's customers throughout the U.S. may notice various facts and recycling messages on pizza boxes delivered to their door. The updated boxes note their recycled content and explain how to recycle them (it's easy – eat, empty and place in bin!). Domino's new boxes also feature a QR code which sends customers to recycling.dominos.com where they can read the facts and find their local pizza box recycling guidelines. If customers are not in a municipality with explicit acceptance, they're provided with suggested language to send to their local recycling program to encourage change.
"Domino's pizza boxes reach hundreds of thousands of consumers every day," said Jenny Fouracre, Domino's senior director of communications. "Reinforcing the facts and directing consumers to recycling.dominos.com are just two small steps we are taking in an effort to increase pizza box acceptance in all recycling programs."
Why is pizza box recyclability such a confusing issue? In the past, some paper mills and others in the recycling industry have expressed concerns about accepting them because of fear of food contamination. However, an industry-endorsed study found that grease and cheese residue at typical levels did not have a significant impact on recyclability of pizza boxes. In reality, the majority of recycling programs and paper mills accept them without any problems. The American Forest & Paper Association, which represents 94% of the consumption of original corrugated containers, endorsed the study and subsequently issued new industry guidance that pizza boxes are indeed recyclable and not impacted by grease.
The Recycling Partnership, of which Domino's is a funding member, also asserts the fact that pizza boxes are recyclable. The nonprofit organization created free resources for municipalities navigating pizza box acceptability, including updated bin labels, mailers and social media assets.
"Domino's has advocated for pizza box recycling through recycling.dominos.com, customer emails, social media content and presentations to the American Pizza Community since 2020, during which we asked our peers to also promote the recyclability of pizza boxes," Jenny said. "Domino's is dedicated to not only diverting waste through responsible packaging, but through the recycling of that packaging. We hope customers join us in this effort by recycling their box, or, if necessary, advocating for their local recycling programs to include pizza boxes."
---
To learn more, visit recycling.dominos.com.