The Story of 100 Stores: Mike Cunningham's Franchise Journey
Published: Nov. 21, 2023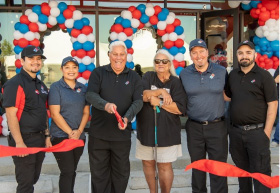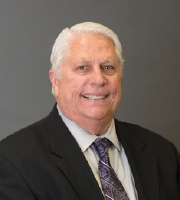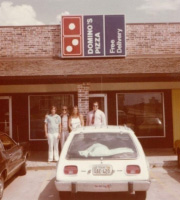 On November 15, Domino's franchisee Mike Cunningham celebrated a notable milestone, opening his 100th store in Iowa Colony, Texas! Since 1978, Mike and his wife Cindy have been operating their franchise, MAC Pizza Management, since opening their first store in College Station, Texas.
Before opening the doors of his first store, Mike became interested in the idea of becoming a franchisee when he drew inspiration from Richard Mueller, founder of Domino's largest franchise, RPM Pizza. Mike worked for Richard at a Domino's near Ohio State University, where he attended college. After consistently encouraging Mike to take on greater responsibility, Richard became an influential mentor in Mike's professional journey, helping Mike discover that he wanted to work for himself as a franchisee.
"I was also attracted to the opportunities in Texas," said Mike. "Specifically in College Station near Texas A&M University."
As Mike worked to build his franchise over the years, every decision served as a learning opportunity. Whether venturing into new regions, strategizing on utilizing technology, or growing store count, he learned that remaining accountable is key.
"Building a successful business is just a series of decisions, one after another. The key is to make more good decisions than bad," said Mike. "When you make a bad decision, learn from it, and don't make it again. If you are wrong, admit it. Don't ever give up; keep plugging away. Do every task to the best of your ability."
One of the most remarkable aspects of MAC Pizza's success is the devoted family of employees the franchise has united – many with over 10 or 20 years of service. Since 1981, 18 MAC Pizza Management employees have moved on to become Domino's franchise owners. One of Mike's favorite aspects of being a franchisee has been watching his employees grow into leaders.
"I see many individuals who start as young drivers, pizza makers and customer service representatives that lack direction, and five or ten years later, they are leaders!"
Mike believes that MAC Pizza's core values have largely contributed to the passion instilled within his dedicated employees:
People – We build our organization from within. Our people are our most important asset.
Respect – We are a family, and everyone is equally as important as the next.
Integrity – We do the right thing in an honest, fair and responsible way.
Drive – We constantly strive to improve and enhance ourselves.
Elevate – We look for opportunities to lift someone up and leave them better than we found them.
Looking back, the driving force behind Mike's commitment to expand his franchise is the fun he has had along the way.
"The job changes every time you add a store," he said. "I like how my career has progressed slowly throughout the years; I am constantly learning new things."
As the future of MAC Pizza Management lies beyond 100 stores, Mike hopes to leave a successful business for the next generation. Mike's son, Alan, is the current President of MAC Pizza and hopes to become the franchisee of record soon.
"I would like to see my grandkids work for MAC Pizza. Let's keep on growing!"
---
For more information on this story, contact us.