Schools Cancelled? No Problem. Local Franchisee Donates Domino's Smart Slice™ Pizzas to Local Shelters, Fire Stations and Police Departments
Published: March 22, 2023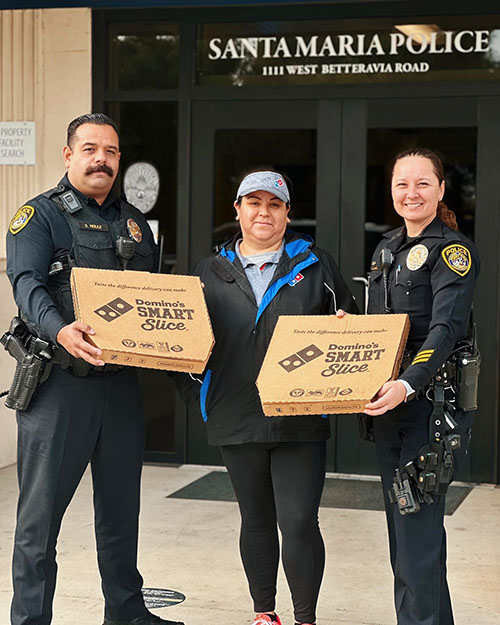 When extreme weather hit California and caused schools to close for multiple days, Tareq Hishmeh, who owns Domino's in Santa Maria, California, wondered what he was going to do with all the Domino's Smart Slice pizzas he supplied to local schools for their lunch programs.
Domino's Smart Slice pizzas are designed specifically to meet USDA meal regulation patterns for kids in schools, and are made up of delicious and nutritious dough, cheese, sauce and toppings.
"We didn't have a timeline as to when the students would be back in school," said Tareq. "The storms caused a lot of flooding and damage in the area. We didn't want all that fresh product to go to waste, so our team decided to make the pizzas and serve them to local shelters, fire stations and police departments."
On Jan. 12, Domino's Supervisor Luis Diaz, General Manager Brian Ferguson and team members Esperanza Contreras, Tyler Lukas, Erica Raymundo, and Maria Blanco came together at the Santa Maria store, located at 3450 Orcutt Road, and made 240 pizzas to distribute around the city.
"It's been a rough week in California with heavy rain, flooding and outages," said Samantha Hishmeh, vice president of operations at Team Hishmeh (the local franchise organization). "I'm very thankful for the generous nature of our team for encouraging donations, and for the team members in that store who initiated this act during a time when the extreme weather was affecting our community the most. Delivering delicious, hot pizza is our specialty, and doing it at a time when people were least expecting a free, hot meal was the best way we could give back to our community after an onslaught of storms ravaged our area."
The Santa Maria Police Department was just one of the surprise deliveries that day.
"We received a special delivery that was completely unexpected," said the Daniel Meraz, police officer at Santa Maria Police Department. "More than a dozen pizzas were dropped off to our police department. We want to say thank you to Domino's for this kind gesture. It's been a rough couple of days due to the storm."
The local Domino's team in Santa Maria was happy to turn a negative situation into a positive one.
"We are glad we could make a small impact on our local community one Domino's Smart Slice pizza at a time," said Tareq. "The police officers and firefighters were working hard during the storms, so feeding them was just our way of showing our gratitude for all their hard work and dedication to our community. Our local shelters provide food and care for our community members that need it the most. Our job, as a local business, is to support their efforts. We are glad that we could turn a few people's days around."
---
For more information on this story, contact us.