The Secret Ingredient to One Bride-to-Be's Engagement Celebrations: Domino's Pizza
Published: August 21, 2023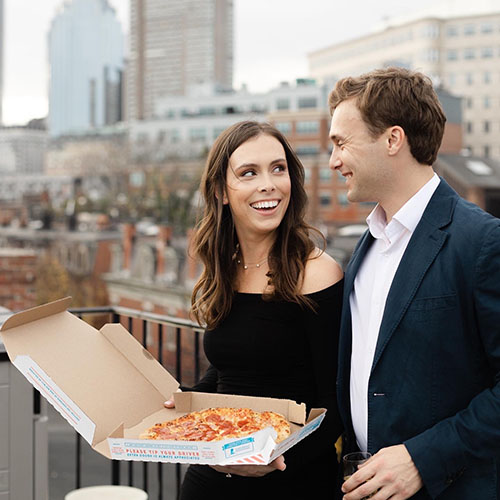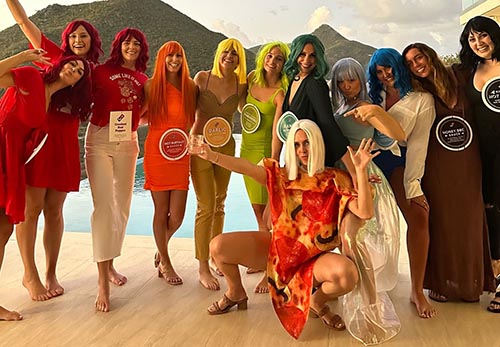 From the moment she said "yes" to her soon-to-be husband's proposal, there was one common denominator across Kelly Gross' engagement celebrations – Domino's pizza! From her engagement party to bridesmaid proposals and bachelorette trip to St. Martin, Domino's played a special role in celebrating each and every milestone. Flashing back to her first blind date with her fiance, their Domino's dinner before a concert foreshadowed how Kelly's love for Domino's would undoubtedly be incorporated into their pre-wedding festivities!
To shed some light on Kelly's fondness for Domino's pizza, her obsession began back in her college days.
"I've always loved pizza, but in college, my love of Domino's really became an integral part of my life," she said. "I went to school in St. Louis, and it was one of the few things that we could order during late nights studying in the library. My roommates and I bonded over late nights and pizza."
As ordering Domino's became increasingly routine, her sorority family became known as the "Domino's Dynasty" due to the sheer number of orders delivered to her and her roommates. Upon graduating and taking on her first job, Kelly's enthusiasm carried on as she became known for her Domino's obsession, ordering delivery to the office on her birthday – which is how she now celebrates every birthday!
"She pretty much eats Domino's day and night," said Kendall Ryan, a longtime best friend of Kelly. "She knows what sauces, how many sauces, an exact combo of toppings, what crust goes best with what side – Kelly could probably tell you more about Domino's than most others out there."
No matter where Kelly finds herself, her fondness for Domino's does not go unnoticed.
"I definitely order Domino's multiple times a month," she said. "I change up my pizza toppings, but I always order at least 10 sauces to dip every bite of pizza in. My go-to sauces are marinara, garlic, and blue cheese, but I rotate in others too and I always have extra sauces in my fridge. Sometimes I get the chicken, Parmesan Bread Bites or other add-ons, and occasionally I'll get the lava cake, which is SO good but dangerously addicting."
Kelly's sisters knew the obvious catering choice for the engagement party was Domino's and surprised her with it! To keep the theme rolling, Kelly cultivated a creative bridal party proposal to her bridesmaids.
"I did my bridal party proposals with a Domino's box that I designed with facts about my engagement, and I went and delivered them as if it was a pizza delivery," she said.
When it came time to brainstorm a theme for Kelly's bachelorette trip, Kelly's sister, Anna, brought the flavor with a creative idea: each bridesmaid would dress up as a different Domino's dipping sauce – coordinating their outfits with the appropriate sauce color and a wig to match!
"Kelly's sister, Anna, made labels with the sauce names as well as a special memory or fact about Kelly and her fiance Alec's relationship," said Kendall. "Finally, we all assembled in St. Martin while Kelly was getting ready and surprised her in our saucy outfits. We got her a white wig as the bride, and a full-blown pizza costume!"
The group ordered Domino's every single day while in St. Martin. After ordering XL pizzas on their first night, they decided to continue their streak throughout the trip.
"We happened to be in St Martin for the Super Bowl and got the only appropriate cuisine for our watch party," said Kelly. "Domino's delivery is available even when you least expect it to be!"
Kelly and Alec's wedding is on Oct. 14, and they cannot wait for their special day.
"Pizza will most definitely be a part of my wedding planning over the next few months and part of my wedding day," said Kelly. "Appropriately, it is in October – during National Pizza Month!"
---
For more information on this story, contact us.