Domino's Partners Foundation and Supply Chain Services Help Secure Oxygen Concentrators for India Team Members in Need
Published: May 26, 2021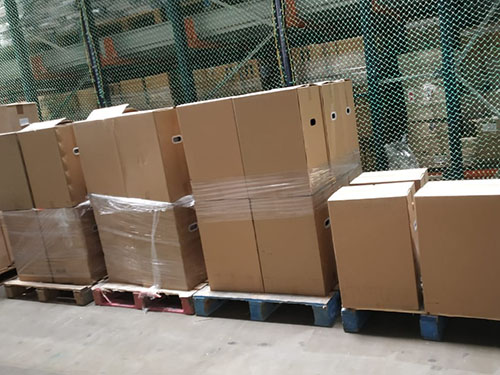 As the coronavirus crisis in India intensifies and its health system continues to service the more than 400,000 patients each day in need of hospitalization, it's no surprise that the Domino's Partners Foundation volunteered to help team members in need.
The Domino's Partners Foundation provides direct support and financial assistance to franchise and corporate team members in need around the world. It is primarily funded by Domino's team members themselves, through a companywide payroll deduction program.
In early May, Avinash Kant Kumar, president of Domino's integrated supply chain in India, contacted his fellow Supply Chain Center teammates across the globe and shared that there was a shortage of hospital beds and oxygen supplies – not just to the people of India, but to more than 1,000 Domino's team members who were ill.
As a result of the shortage, those suffering from COVID-19 are being forced to treat themselves at home as there is just not enough space in the hospitals. Many of these Domino's team members need oxygen support, which is hard to find in larger cities such as Delhi and Mumbai, not to mention the smaller villages throughout the country. Because of this, there is an immediate need for oxygen concentrators – both portable and nonportable. Oxygen concentrators are devices that convert ambient air into highly purified oxygen to provide relief for COVID-19 patients.
Due to the circumstances, concentrators are a rare commodity and extremely hard to find. When called upon, Domino's supply chain team did not waste any time. Through incredible teamwork with Domino's international team in the U.S., they were able to locate oxygen concentrators to be dispersed to Domino's families in need throughout India.
"Thanks to the generous donation from the Partners Foundation and in collaboration with the local Domino's international team, we were able to secure and ship out 60 concentrators," said Cindy Headen, executive vice president of Domino's Supply Chain Services. "Given the level of urgency and concerns with supply availability, we had all hands on-deck. We will continue to help out in any way we can."
---
For more information on the Domino's Partners Foundation, visit biz.dominos.com/about/partners.
---
For more information on this story, contact us.