Domino's Team Members Volunteer at Community Gardens Across the U.S.
Published: August 15, 2023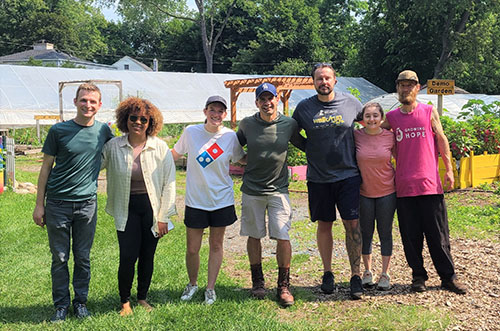 Domino's is passionate about giving back to the communities where we live and serve, specifically relating to our support of the agriculture industry, improving our environmental impact and reducing the hunger gap. This summer, Domino's corporate team members across the country affected positive change in all these areas by volunteering at local community gardens.
Community gardens exist in urban areas to not only provide city residents with an outdoor gathering space but allow them to experience agriculture on a smaller scale. These gardens encourage socialization, education, and enrichment while empowering the community to grow and harvest their own nutritious food.
In addition to serving as an outdoor gathering space, community gardens offer a multitude of health and environmental benefits. These gardens help combat food insecurity in underserved areas by providing communities with fresh, healthy produce – often for free or at a heavily reduced price. The crops grown from community gardens positively impact the local environment by improving air quality, increasing biodiversity, enhancing water filtration, protecting pollinators and more.
Domino's team members were eager to lend a hand in their communities by partaking in volunteer activities at local urban farms and gardens. In July, team members from Ann Arbor, Michigan volunteered at Growing Hope – a garden on a mission to defeat hunger barriers by empowering people to grow and consume nourishing food. Team members spread mulch, pulled weeds and conducted overall maintenance on gardens to ensure health of crops.
In Richmond, Virginia, corporate team members have an upcoming volunteer day at Renew Richmond – a community garden that specifically works with youth to educate on and develop gardening and environmental justice skills. These volunteers will plant various crops and help construct raised garden beds at the farm.
"Through our volunteer day, I not only gained a better understanding of farming, but sustainable practices that benefit the environment and community members," said Jeannette Sharp, Domino's community relations manager. "Local gardens are important to a thriving community, and I'm glad Domino's supports so many."
At Domino's core, we value our local communities and seek to support them in any way we can. The range of benefits that come from local gardens like Growing Hope and Renew Richmond are unmatched. From feeding the community, educating on agriculture and benefitting the environment, community gardens do amazing work!
---
Click here to learn more about Domino's community giving efforts.