Domino's Celebrates Giving Tuesday by Donating to Organizations Nominated by Team Members
Published: Nov. 28, 2022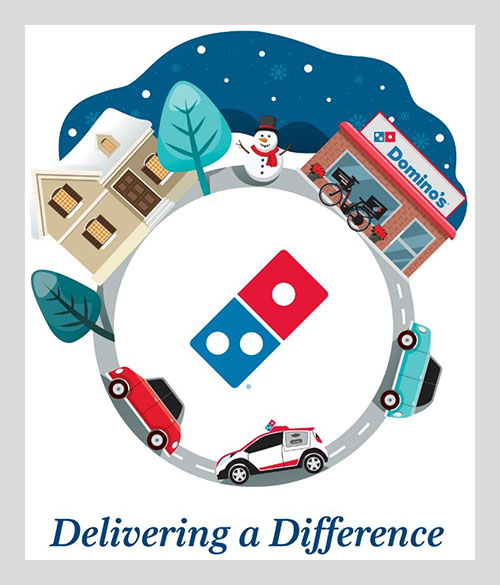 Giving Tuesday is known as a generosity movement on the Tuesday after Thanksgiving. In the spirit of Thanksgiving, it's about being grateful for what you have and supporting those who have less. This year, in recognition of Giving Tuesday, Domino's donated a total of $150,000 across 30 nonprofit organizations throughout the U.S.
Domino's invited team members to nominate and vote for the nonprofit organizations they're inspired by. The five organizations with the most votes received $10,000 each; the next 10 received $5,000 each and 15 others received $2,500 each. They include:
$10,000
Detroit Rescue Mission Ministries - Detroit, MI
Food Gatherers - Ann Arbor, MI
Hope Clinic - Ypsilanti, MI
Michigan Humane Society - Southfield, MI
Ypsilanti Meals on Wheels - Ypsilanti, MI
$5,000
ALS Association of Texas Houston - Houston TX
Believet Canine Service Partners - Northfield, MN
Five Acres Animal Shelter - St. Charles, MO
For the Love of a Boxer Rescue and Sanctuary - Wallace, MI
Friends of Michigan Animal Rescue - Belleville, MI
Gleaners - Detroit, MI
Kids Meals of Houston - Houston, TX
Leader Dogs for the Blind - Rochester Hills, MI
Shriners Children's Hospital of New England - Springfield, MA
Ypsilanti District Library - Ypsilanti, MI
$2,500
A Kid Again - Midland, MI
Boys & Girls Clubs of Southeastern Michigan - Detroit, MI
Down Syndrome Association of Greater Cincinnati - Cincinnati, OH
Free Bikes 4 Kidz - Detroit, MI
Freedom House - Detroit, MI
Maryland Center for Veterans Education and Training - Baltimore, MD
Michigan Theater - Ann Arbor, MI
Projects Sweet Peas - Warwick, RI
Pump Up the Kids - Anchorage, AK
Rainbow Connection - Rochester, MI
Running 4 Heroes - Winter Springs, FL
St. Mary's Soup Kitchen - Memphis, TN
The Autism Alliance of Michigan - Southfield, MI
The Baltimore Station - Baltimore, MD
Washtenaw Literacy - Ann Arbor, MI
On top of these Giving Tuesday contributions, Domino's also donated $100,000 to the Domino's Partners Foundation. Partners is an independent nonprofit organization that provides financial assistance to Domino's team members who are facing hardship.
Domino's is dedicated to delivering a difference in the communities we live in and serve. We are proud to support these organizations and their important missions.
---
To read more about Domino's commitment to the community, visit stewardship.dominos.com.