The Top 5 Things You Probably Didn't Know About Working at Domino's
Published: April 19, 2023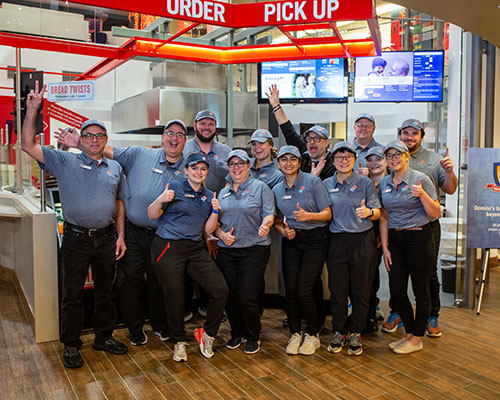 Domino's is the largest pizza company in the world, and the leader of carryout and delivery pizza in the U.S., but did you know the brand has about 1,200 team members who work out of Domino's World Resource Center in Ann Arbor, Michigan, to support Domino's stores across the U.S., as well as the international business? That is just one of many fun facts about Domino's, but there are plenty more! Here are the top five things you probably didn't know about working at Domino's as a corporate team member:
Pizza Prep School

Every corporate Domino's team member must go through a four-day program called "Pizza Prep School" at Domino's World Resource Center. Pizza Prep School is an immersive program that teaches team members nearly every aspect of what it takes to work in a Domino's store – from taking orders over the phone, to learning how to make all of Domino's products, as well as delivering orders to customers – all while learning and utilizing the latest Domino's in-store technology and innovations. Why? Because in order to support those who make, bake and take pizza, Domino's believes every corporate team member should understand what store team members go through every day. So where do Pizza Prep School team members deliver the orders? Domino's actually has a store in the middle of its headquarters which opens for business each time there's a Pizza Prep class. When the store is open, team members will serve customers at the front counter, as well as deliver orders to all four floors within headquarters.
Domino's Farms Office Park

Domino's World Resource Center is located in Domino's Farms Office Park, which is a Frank Lloyd Wright-inspired building design that is set on a serene piece of property. Domino's Farms is surrounded by woods, walkways, ponds and wetlands – not to mention a bison herd. That's right – team members' views at Domino's headquarters include a herd of about 80 bison, which are frequently seen roaming and dining across the grassland!
Domino's Days

"Domino's Days" are special days off that are given to all corporate team members. They're usually the Fridays before holidays, or the Mondays after, such as the Friday prior to Memorial Day, or the Friday after Thanksgiving. These days are a special perk for corporate team members, in addition to nine specific company holidays, which are days off that are already provided to team members.
Spontaneous and Fun Events

If you work at Domino's World Resource Center, there are many special events that pop up throughout the year. Some are a surprise and some are not. Surprise moments are usually tied into fun times throughout the year, like having cider and donuts in celebration of autumn, or enjoying a gelato in the warm summer months! One of the spookiest and most delightful events that team members look forward to each year is Boo Day, which takes place the week of Halloween. Each department at Domino's headquarters decorates for Allhallows Eve and sets up trick-or-treating stations so team members can bring their little ghouls, dressed in their costumes, to gather spooktacular goodies around the building.
Benefits and Perks

Domino's offers a robust and inclusive benefits and perks package to eligible corporate team members and their families, including domestic partners. Some highlights include providing fertility benefits, 14 weeks of paid leave time for birth mothers, six weeks of paid parental leave for nonbirth parents and up to $10,000 in adoption assistance, but that's not all! Domino's also provides financial assistance for team members who are pursuing higher education from an accredited college or university.
---
To learn more about Domino's culture and view current job openings, visit jobs.dominos.com.