Domino's Named One of Fast Company's Most Innovative Companies of 2022
Published: April 26, 2023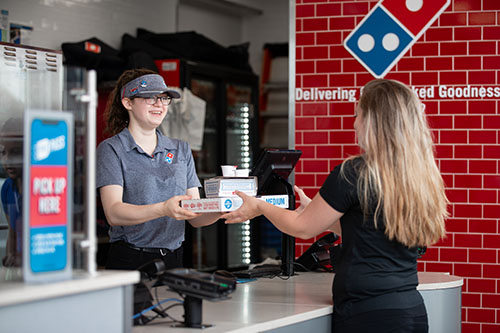 Anyone can see that Domino's is leading the food industry in innovation, but now it's official: Fast Company recently named Domino's as one of the most innovative dining companies of 2022. Domino's made the top 10 list in the dining category for "masterful marketing that results in orders." Two of Domino's most innovative campaigns of 2022 were its Stranger Things mind ordering app and its carryout tips promotion.
No Stranger to Innovation
Domino's partnered with Netflix's ever-so-popular Stranger Things series and created the first-of-its-kind mind ordering app, which "combined clever marketing with a tech twist to engage customers," in Fast Company's words. Fast Company cited the app's use of facial recognition and eye tracking technology, which powers the "mind ordering" function. Domino's media relations efforts generated more than 820 million earned media impressions for this campaign alone.
Carryout Tips: "A Compelling Tech Integration"
Early 2022 saw the launch of Domino's carryout tips campaign, where carryout customers were "tipped" $3 to use towards their next online carryout order just for ordering carryout from Domino's. Fast Company called the campaign "tech-savvy," noting that it was no easy feat to integrate this feature into the existing app and online ordering system, in addition to the launch of a dedicated website. But it was worth it – the campaign raised same-store carryout sales by 14.6% and drew more than two billion earned media impressions.
No Sign of Stopping: Loaded Tots and Apple CarPlay
Fast Company's list celebrates innovations from 2022, but Domino's hasn't slowed down since then. In the first half of 2023, Domino's has already launched a new product – Loaded Tots – and introduced ordering via Domino's app on Apple CarPlay.
Loaded Tots are a delicious new side item that combines all the best parts of pizza, but on tots! They're golden-brown potato tots which are topped to perfection and oven baked. They come in three varieties: Philly Cheese Steak, Cheddar Bacon and Melty 3-Cheese, and solve a problem that has plagued delivery customers across the nation: fries just don't deliver well. Domino's gave customers another way to indulge their craving for crispy potatoes with Loaded Tots, which are designed to be delivered and to arrive hot and crispy.
What's another problem that hungry customers face? Long drive-thru lines. Domino's recently launched Domino's iOS app on Apple CarPlay, which makes for a new and more efficient way to order while on the go. Customers no longer have to wait in lengthy drive-thru lines to place their order like at other restaurants. Now they can order from wherever they are. Customers have two ordering options via Domino's app on CarPlay: "Tap to Order" or "Call to Order."
---
Want to stay updated on Domino's latest innovations and news? Visit Domino's newsroom!