The Noid™ is Back!
Domino's Archrival Has Returned and He's Still up to No Good
Published: April 30, 2021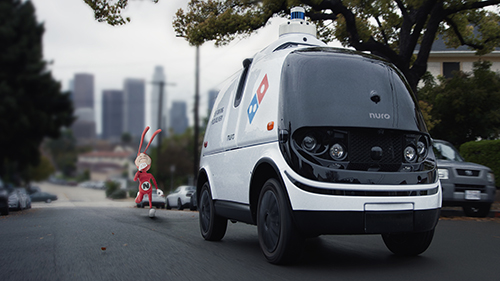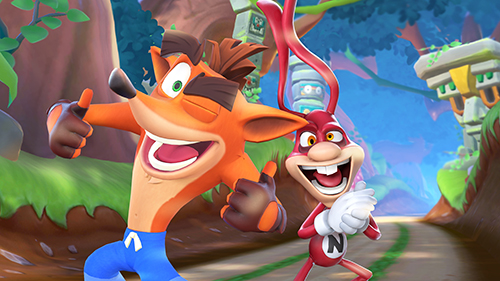 Something peculiar has been going on @Domino's on Instagram over the past week, and now, we know who's behind it. Domino's archnemesis, the Noid, has returned for the first time since 1986, and he's still up to his typical antics. Not only did he make his presence known on social media, but he's also crashed TV screens across America, trying to thwart the advanced technology of Nuro's R2 robot that is out on a pizza delivery.
"The Noid is Domino's oldest and most famous villain, and the pizza delivery testing we're doing with Nuro's autonomous vehicle in Houston is exactly the kind of technology innovation that could provoke the Noid to return," said Kate Trumbull, Domino's vice president of advertising. "However, after 35 years of practice in avoiding the Noid, we're pretty confident we know how to defeat him."
The Noid isn't limiting his escapades to social media and TV screens though. Mobile devices are his next target for wreaking havoc. The Noid will join the newest installment of the Crash Bandicoot gaming series, Crash Bandicoot: On the Run!, beginning on May 7. For a limited time, he will be featured as one of the game's mini bosses. Avoiding the Noid has never been so fun, as gamers will have the chance to take on the antihero in this new mobile adventure.
Feeling nostalgic about the Noid's return? Domino's has a limited number of "Avoid the Noid" T-shirts, tumblers and hat clips available for purchase. All profits from the Noid merchandise will go to Domino's Partners Foundation, an independent internal nonprofit organization that provides financial assistance to Domino's franchise and corporate team members in need. The Noid has even schemed his way into GIPHY, the online platform that houses GIFs and stickers for use on all major social media platforms.
While no one has spotted the Noid for decades, his mischievous actions have lived on in the minds of many people. However, the Noid is no competition for Domino's as it continues evolving the customer experience with great tasting pizza and convenient technology.
---
For more information on this story, contact us.