Domino's Opens 20,000th Store in the World
Milestone store located in New Delhi, India
Published: Nov. 1, 2023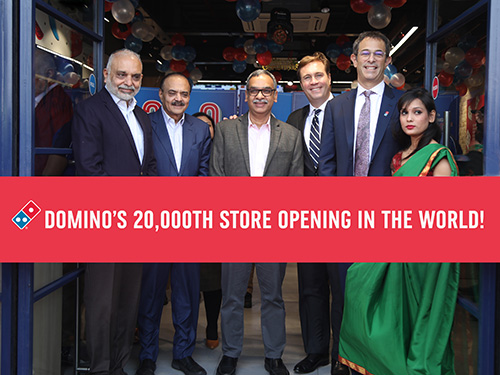 Domino's is continuing its global growth momentum and is excited to announce the opening the 20,000th store in the world, in India.
Domino's milestone store, located in the iconic Regal Building at Connaught Place in New Delhi, India, opened through master franchise Jubilant FoodWorks.
"Domino's is on a continued quest to grow globally, and we are thrilled to have brought such a beautiful, milestone store to the New Delhi area," said Art D'Elia, Domino's executive vice president of international. "We have grown our brand by more than 5,000 stores in the past five years, and couldn't be more excited to serve the people of New Delhi."
Domino's in New Delhi features the pizza theater design, which is open concept and allows customers to see all of the action of pizza-making, from when the dough is hand stretched to when the pizza goes in the oven. The store features indoor seating and is open for carryout and delivery.
"We are honored to have opened the 20,000th Domino's store in the world, in India, which takes our partnership to the next level," said Sameer Khetarpal, CEO and managing director of Jubilant FoodWorks Ltd. "We are committed to providing delicious pizzas to customers and look forward to serving them."
Domino's operates in more than 90 markets worldwide, with more than half of its global retail sales coming from international stores.
---
For more information on this story, contact us.